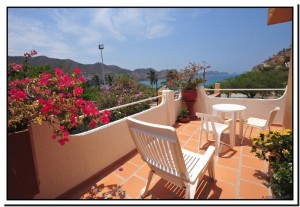 WhereTaganga, Santa Marta
Price:from $ 70.000 per person
> This hotel is the perfect place to start your tours to Parque Tayrona and ciudad Perdida
>Clean and comfortabele rooms
> A nice seaview, enjoy the quiet fisherstown Taganga

Description Eco – Hotel Taganga
It is a small eco-friendly hotel family hotel in Taganga near the beach. If you want to go diving, meet the Tayrona Park, relax and read a book? This hotel is the ideal.
The eco-hotel has two terraces where you can enjoy the sea view accompanied by delicious coffee house. There is also a pleasant central courtyard surrounded by a colorful garden.
The hotel is interested in the environment and has bioclimatic and environmental policies. The contribution to the care of the environment make implementing a low power consumption, making wastewater treatment and most interesting using bioclimatic internal ventilation.
Prices Eco hotel Taganga
From $ 60.000 pesos per person