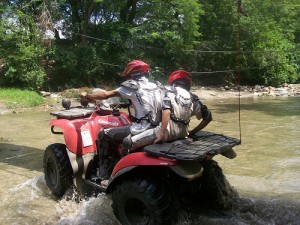 > A thrilling experience surrounded by nature
> The opportunity to learn the indigenous communities
> Take a fresh bath in one of the beautiful waterfalls
Where: Santa Marta |Price:from $ 250.000 pesos | Duration:4 to 7 hours
Description ATV Santa Marta
Jump on to a ATV and go explore the Sierra Nevada. Stroll over mountains and rivers, leading to magical places, where you can enjoy beautiful beaches and swimming in crystal clear waterfalls captivating. You can  see a lot of great biodiversity.
ATV Santa Marta is an experience that deeply respects nature and people that are on different routes.
In each ATV can ride two people (depending on volume, maximum combined 160 kilos). Also accompanying, two instructors, one forward and one back, they are all are brand new ATV yamaha grizzly 450 cc.
Included
Not included
Price
Route 1: Paso de los mangos $ 250.000